The new spectrum that's expanding wireless connectivity.
CBRS is
creating new possibilities.
Until recently, enterprises and other large-scale organizations that want to expand wireless coverage in or around their facilities had to rely on either wi-fi or 4G. By nature, the 4G networks from wireless service providers are not customizable and aren't always ideal for handling large amounts of data easily or cost effectively. While wi-fi solves some of those issues, security, interference and mobility support are consistent concerns. A neutral host approach to deploying custom wireless networks over Citizens Broadband Radio Service (CBRS) spectrum could provide a solution to many of these challenges.
CBRS is changing what's possible.
Solutions that utilize newly available CBRS radio spectrum allow organizations to set up their own private LTE, and soon 5G-NR networks. It's known as the "innovation band" for a reason, and offers many benefits.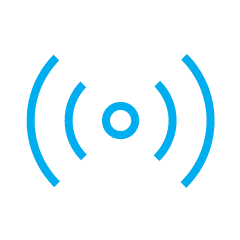 Improved performance
Greater speed and capacity.


A dedicated, private wireless network gives you greater speeds and allows you to accommodate significantly more devices. It can be set up for indoor or outdoor use—complementing wi-fi and small cell coverage.

Increased security
A private network offers better protection.
You can decide which devices have access to the network. This keeps your data protected and resistant to external attacks.

More flexibility
Tailor your network to your specific needs.
CBRS spectrum is open for any organization to use, so you can create the specific kind of network you require. That means you can prioritize needs like latency, speed, capacity and reliability, so you can do more with your wireless network.

Maximum scalability
Build to the size you need.


When implemented as part of a neutral host solution, CBRS is flexible enough to support multiple wireless carriers as well as dedicated private networks. This allows you to scale your network as needed.

Expanded access
Opportunity for all.



Due to the unique nature of CBRS spectrum, capital investment and organization size no longer dictate who can set up a private, custom wireless network.
How industries are using CBRS.
The flexibility of CBRS makes it an ideal solution for many types of companies and organizations. Explore below to see how CBRS is transforming different industries.
CBRS by the numbers.
70%

of commercial buildings have insufficient indoor wireless coverage

$4.5B

was raised in the CBRS spectrum auction

20%

potential increase in a CRE property's value by installing CBRS
Connectivity is more than 50% of the cost of Industrial IoT solutions. For our industries, OnGo plays a crucial role in fostering growth.
Dive deeper.
We've gathered several resources to help you better understand CBRS.
We're at the center of CBRS.
Our towers, small cells, fiber and on-net buildings are critical to the deployment of scalable, neutral host solutions that use CBRS spectrum. That's why we've been involved in its development from the beginning. As an active member of the OnGo Alliance, we've been collaborating with wireless providers, government regulators, equipment manufacturers and more to ensure the success of the technology. With so much opportunity on the horizon, we're ready to help.