Looking ahead, we aim to enhance Lansing and East Lansing's existing wireless infrastructure by deploying a small cell network of low-powered antennas called "nodes." Small cell nodes are installed on right of way infrastructure like utility poles and streetlights, are connected by fiber optic cable and can handle large amounts of data at high speeds. Working in partnership with local city staff, we will enable connectivity across these communities while paving the way for next-generation networks such as 5G.
Why your community needs more wireless infrastructure.
Known as the "Heart of Michigan," Lansing and neighboring East Lansing are home to several universities, law schools and medical schools—most notably Michigan State University. This intellectual environment has nurtured growth in fields like information technology and biotechnology, and has created opportunities for other industries, including government, healthcare and insurance, in the region. As the sixth largest city in the state, Lansing needs connectivity residents can rely on.
The exponentially growing demand for mobile data creates real challenges to fast, reliable mobile connectivity. The state's current wireless infrastructure needs an upgrade, and public safety is a primary reason why. Today, 80 percent of emergency calls to police, firefighters and other first responders are initiated on mobile devices. The solution: small cell technology, or "small cells," which can be used to complement existing wireless infrastructure, such as towers, to add much-needed capacity in these cities. And now that more than 50 percent of households rely exclusively on mobile phones, small cells play an important role in expanding coverage.
Proposed small cell locations subject to city permitting review, East Lansing, MI.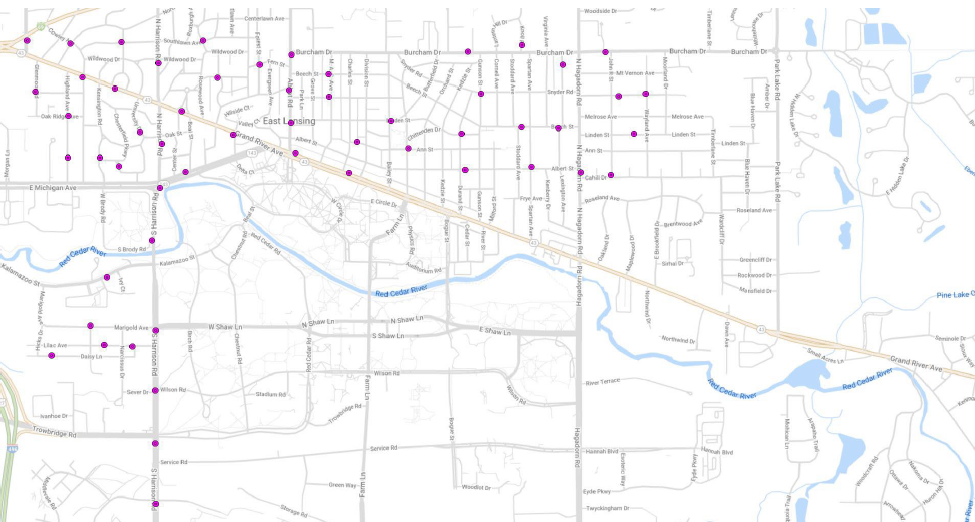 Where we're installing small cells.
The map above shows proposed areas of activity in Lansing and East Lansing.
About Crown Castle
Crown Castle owns, operates and leases more than 40,000 cell towers and approximately 85,000 route miles of fiber supporting small cells and fiber solutions across every major US market. This nationwide portfolio of communications infrastructure connects cities and communities to essential data, technology and wireless service—bringing information, ideas and innovations to the people and businesses that need them.